If you could see me in person right now, you'd see my giant smile because April is BROADWAY MONTH for the Busy Kids Do Piano community! That simply means we're going to learn all about Broadway Musicals this month. I have a deep love for Broadway and could talk about it endlessly. In fact, last month, I took a trip to NYC and was fortunate enough to see three shows in three days! Pure musical heaven.
I have all kinds of fun Broadway Musical resources I've put together for your musical learning fun this month (or any month!). If you follow me over on Instagram, you can check out my quick tour of the Museum of Broadway in this reel, or learn about some of the Broadway careers available to musicians in this post.
BROADWAY MUSICALS PODCAST CONTENT
Over on the podcast, I have two very special episodes with Broadway-themed content.
This episode is a dive into what defines a Broadway musical, and the history of how Broadway came to be.  The episode is full of "fun-facts" like how long Broadway Street actually is, how many theaters dot its vicinity, and how many seats a theater needs to have to be counted among the venues. Then we dive into the history of Broadway, which I find absolutely fascinating. If you can believe it, we as a society have been passionate about seeing live theater and musicals there for several HUNDRED years at this point:
During my visit to NYC last month, I had the incredible chance to meet musical director Meg Zervoulis and speak to her about her job. That same trip, I also had the privilege of seeing the show Funny Girl, for which Meg is the assistant musical director. She also regularly conducts their pit orchestra as well. Broadway, and all the unbelievable talent that surrounds it, will never get old for me!
The highlights from our interview that I'd love you and your students to listen for include
1) how Meg uses her musical gifts and profession to give back to her community,
2) the importance of ongoing practicing when it comes to having a career in music, and
3) the importance of challenging yourself outside your comfort zone along your musical journey.
BROADWAY MUSICALS PIANO LESSON TUTORIALS
Not only does my podcast have Broadway content for you this month, but I also have some piano lesson tutorials featuring songs from Broadway musicals. The first tutorial is from The Sound of Music, which debuted on Broadway in 1959.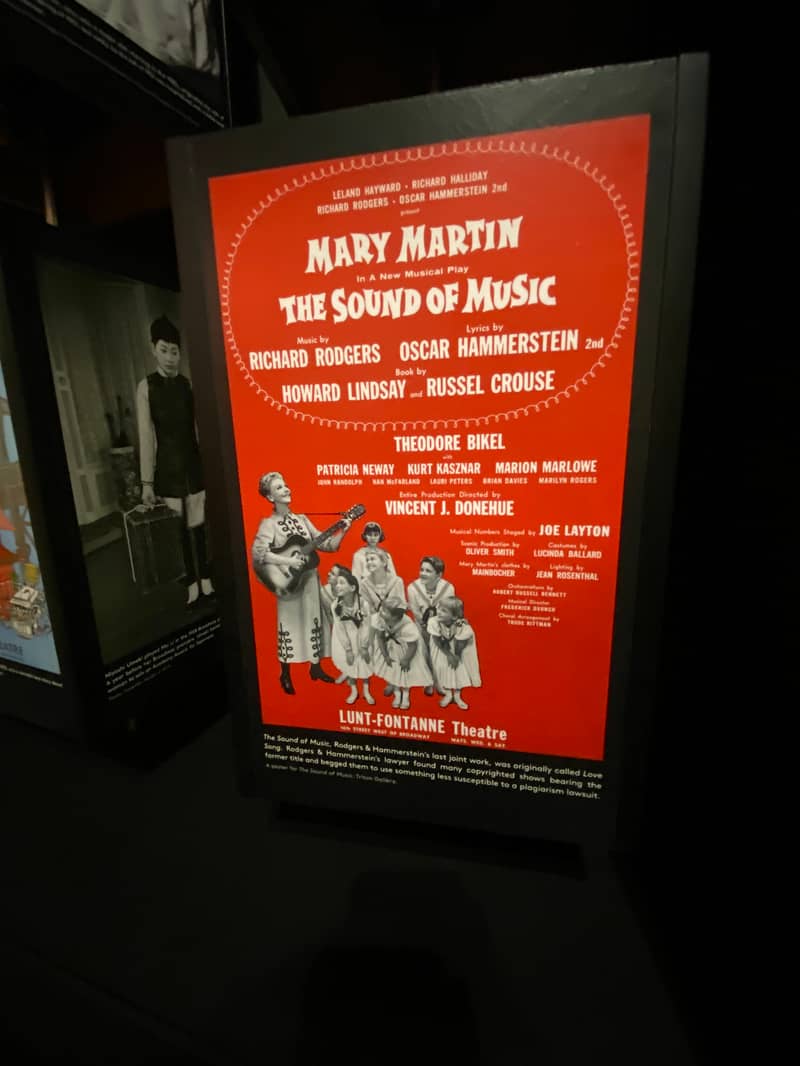 It was an instant success, and several songs became popular hits. Interestingly, the original cast recording was nearly as successful as the play itself. When it was released only one week after the premiere, the album shot to the top of the Billboard charts. "My Favorite Things" is a great sing-along from the musical, and I'm confident your students will enjoy learning to play it. As a reward or incentive, it might be fun to watch the scene from the movie with your students as well. It's definitely one of my favorites in the show.
WATCH "MY FAVORITE THINGS" TUTORIAL ON FACEBOOK
WATCH "MY FAVORITE THINGS" TUTORIAL ON YOUTUBE
As I put together resources for Broadway month, I've been considering how many incredible Disney films have been adapted into just-as-memorable Broadway musicals.
One of these is The Little Mermaid, and with the upcoming release of the live-action film, I thought I'd create a brand-new piano lesson tutorial to celebrate both the Broadway show and the new movie.  If your student is excited about the film, use this piece to motive them to practice a little. Maybe learning to play the song earns them a ticket to the movie or a side of popcorn on the couch while streaming the original animated version. Either way, just be prepared; after doing this lesson, if your student is like mine, they will be belting out, "What's a fire, and why does it – what's the word —burnnnnnn…" the rest of the week.
WATCH "PART OF YOUR WORLD" TUTORIAL ON FACEBOOK
WATCH "PART OF YOUR WORLD" TUTORIAL ON YOUTUBE
BROADWAY MUSICALS PRINTABLE
I also have a free printable for your students to complete and color
. Once they've learned about Broadway musicals through some of my other resources and hopefully connected some dots between musicals and their day-to-day lives, students are invited to think about and dream up some details for their own Broadway musical and draw or write their answers on the printable. There are no right or wrong answers – it is purely for the sake of creating, just like a budding Broadway composer might.
BROADWAY MUSICALS TO WATCH ON VIDEO
One final bit of inspiration for you – I've made this list of family-friendly musicals that have been recorded or adapted to films. If movie-night is in your family's future, why not watch one (or all) of these soon? Be sure to check the ratings or 
Common Sense Media for reviews
 to make sure the content is appropriate for your children.
Busy Kids Do Piano recommends:
Newsies
Fiddler on the Roof
Annie (original or modern version)
Sound of Music
Hairspray
Into the Woods
Phantom of the Opera
Hamilton